Reading Time: 4 min 37 sec
It is likely that you have heard a lot about edible weed—after all, its is one of the most popular ways to consume cannabis. Eating cannabis is an excellent option for those who want all the benefits of the plant without having to smoke or vaporize it.
However, there are a vast amount of options when it comes to edible cannabis. Step into any dispensary, and you'll be overwhelmed by the sheer amount of options.
You might be wondering—what are all the different options, and are some better than others?
Join us as we take a look at all the different types of edibles you can find on the market today, and where they came from.
How Long Have Edibles Existed?
Edible use goes back as far as 3,000 years ago in India. Some speculate that cannabis use goes back even further than that.
What we do know for sure is that edibles have been used consistently for thousands of years. In fact, edible weed was a much more popular option than smoking until relatively recently.
The modern edible that we know and love today came to fruition thanks to a woman named Alice Toklas. She created a cookbook in the 1950's that had a recipe for a sweet weed edible from Morocco.
It wasn't long until people began to adapt the recipe into its most iconic form—the weed brownie. Baked goods like brownies and cookies would remain the most popular type of edible up until recently.
How Do Edibles Work?
Edibles work through the digestion of cannabinoids like THC. When cannabis is smoked, the THC goes into the lungs, and then the bloodstream.
For THC to get to the bloodstream with edibles, it needs to go on a journey through the digestive system. If you eat a THC gummy, that gummy needs to be broken down by the stomach.
Once the gummy is processed and reaches the intestines, the THC is absorbed into the body. The thing is, this doesn't happen all at once, but over time.
That's why edibles can take so long to take effect and can last an entire day.
The Encyclopedia of Cannabis Edibles
Now that cannabis laws are relaxing nationwide, the types of edibles available have exploded in number. Companies nationwide are infusing cannabis into every kind of food imaginable.
Baked Goods
As we mentioned, baked goods like cookies, brownies, and space cakes are common. Before the current cannabis revolution, baked goods were the most popular form of edible.
Usually, they were homemade and could be either way too strong or way too weak. Now, baked goods can range from sugar-coated cookies to organic bitter chocolate bars.
However, it's usually not advised to eat an entire baked good in one sitting. Most of the time, the baked edible is dosed out in specific amounts.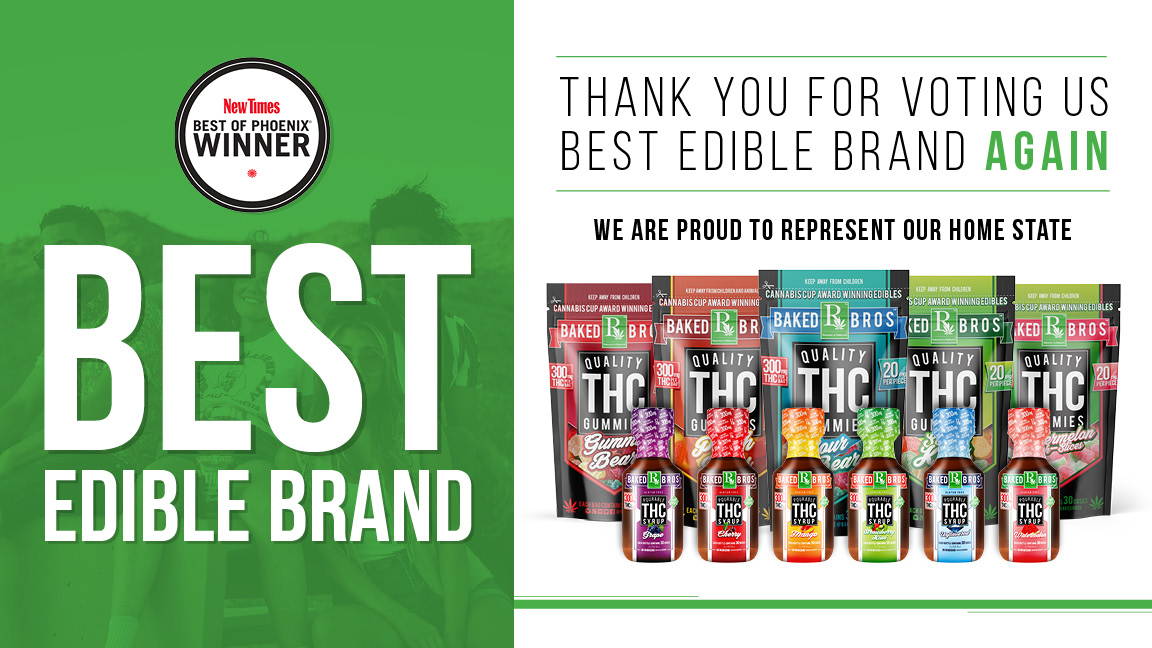 THC Gummies and Candies
Probably the best and currently most popular form of weed edibles are THC gummies and candies. These delicious treats are cannabis-infused gummy bears, lollipops, gumdrops, and much more.
THC gummies have become such a popular option because of how convenient they are. Each gummy contains a set amount of THC or CBD in specific milligrams.
Simply eat one, and you'll be feeling great for hours! They're discreet, but be careful because they can easily be mistaken for normal candy if somebody is unaware.
Drinks
While technically not a weed edible, THC-infused drinks fall under the edible category because they work close to the same way as edibles. Typically, weed drinks contain a THC oil extract mixed in with a liquid.
The options range from sodas and teas to non-alcoholic beers and wines. Cannabis drinks are becoming steadily more popular, but they remain a bit niche.
Capsules
THC-infused capsules are great for people who need a discreet way to eat cannabis. Usually, THC is packed into clear softgels that are consumed daily like conventional supplements.
Cannabis-infused capsules are geared more towards people who need long-lasting relief. THC capsules can come in various strengths, from a light dose to a heavy one. 
Oils
Cannabis oils can be a little confusing. This is because oils can refer to cannabis concentrate in vaporizers or simply cannabis extract.
For this encyclopedia, we're referring to cannabis extracts. Professional extractors use complex machinery to extract the THC, CBD, terpenes, and more from cannabis and turn it into an oil.
THC oil can be taken as is or mixed with anything else that is consumable. THC oil is typically what producers mix into many edibles and drinks.
Tinctures
Much like an oil, tinctures are extracts from cannabis. For tinctures, cannabinoids are extracted using a medium (like alcohol).
Tinctures are unique because they're usually taken sublingually. That means that you can take a dose and put it under your tongue for a minute or two to feel the effects.
The reason for doing this is that the effects will be felt quickly, usually within 15 minutes. That's because the cannabinoids can absorb directly into the blood rather than going through the digestive system.
Although that makes them a little different from regular edibles, they still fall under the same category. That's because you can also swallow a tincture, and it will work close to the same way as an edible.
Professional Cannabis Cuisine
Within the last decade, professional cannabis cuisine has started to reach the mainstream. Famous chefs around the world are experimenting with cannabis-infused cuisine.
However, due to current cannabis laws, many restaurants serving cannabis cuisine remain private and invite-only.
Why Use Cannabis Edibles?
Weed edibles are perfect for people who don't like to smoke or vaporize cannabis. Also, many people may not be able to smoke or vaporize cannabis due to sensitive lungs or due to other unrelated illness.
Edibles are also incredible for those who need all-day relief conveniently. To get the same relief from smoking cannabis, one would need to smoke multiple times throughout the day.
If you're ready to try an edible, we suggest starting out with THC gummies by Baked Bros. These delicious treats come in many different options and are dosed out with the perfect amount of THC.
If you'd rather make your own edibles, Baked Bros also has you covered with THC syrup. This fantastic syrup can be used to create any edible that your heart desires.
Now that you know what types of weed edibles exist, you can make a confident decision about which one is right for you. 
If you are curious about how long your edible will stay in your system, click here.